Foreword
So many of you have been wondering why you never received the newsletter? Well we dispatched them, but the mail cargo planes we sent the letters out with got shot down by a gang of bogeys! This time we made sure to send our fleet of F-22s out with them for air cover.
With all joking aside (also literally), we have decided to relaunch the Area00 newsletter "The Raptor" again. The aim is keep you informed about Area00 and provide some entertainment. Starting with this experimental issue, the newsletter consists of three main components. Firstly major announcements, development news and important notices from us. The second component focuses on the community, with content provided by and for players. And on the right side, we have stories from Area00's newspaper "The Raptor Times" for entertainment,
or uhm... to keep up with important news.
Announcements
SIDRA Server Re-Opened

October 29, 2011 - Sidra server has been re-opened!

For some time now, information on the relaunch has been available on Korea Server.

If you were playing when it shut down in 2007, and you still have the same Korea account or use an identical login name, you can access Sidra right now to check it out.

If you had a character on Sidra but it's no longer there, and/or you had to recreate your Korea account, or want a different Sidra character back, you can request your old character to be reinstated on this page and we will see what we can do.

Or create a new (Korea account and) Sidra character to play! If you want a challenge, we recommend starting with a fresh pilot!
New Guardian Program
A new Guardian program will be launched on:
November 5, 2011

Under the new program Guardians will receive the Status and a Guardian Ticket. Like we have for Donors, the ticket will enable the rewards for a certain period of time.

Full details, donation options, and Q&A will follow on-site!
Development
Version 1.31
Last September the game was updated with some important bug fixes and a number of changes often requested by players. We just want to highlight some of these for those that have been away for a bit:

Abdicate Command is back, but with a change
Wing Guideline Editing is back
Infrastructure build verification now reactive
Top Bomber Crew ranked by structure kills only
Chengdu J-10 was added
Inchon was changed to 20 pilot wings with 5 spots reserved for junior ranks. Because we are not booting anyone from a wing because of rank, the wingmembers' ranks only matter when someone joins. Because this was confusing, the Wing Apply screen now shows which ranks can join
For a detailed list of all changes, see here

Next Version 1.32
Upcoming update is limited to changes for the Guardian ticket and a few bug fixes. The only game change will be dropping of the minimum rank requirement for wing creation on regular servers. This time there will not be a testing period at Barbarossa, Korea as a whole will be updated, shortly followed by Texas.
A Word From Niels
First of all, a big THANK YOU to all the donors!

Further development is underway! Thank you for all your feedback and ideas. Everything is read and considered, but I can't spend too much time replying to all. Often ideas have been suggested before, that's cool, but excuse me for not replying again. Also I don't want to make promises I can't keep, they just end up frustrating both you and me. Sometimes other things are needed first, or there are consequences to consider, or it isn't as easy as it sounds. Most of you value Area00 for the fact that is a persistent game, that also means there are some limitations/difficulties in updating. Or your idea is just incompatible with work in progress. But this doesn't mean that it won't be considered again later on!

Keep posting suggestions and feel free to comment on ideas by fellow players. Whether you think it's great or you think something is overlooked, contribute your views. The discussion can lead to something better, or discover pros and cons.

Please be constructive on the forums, don't kill topics, use your urge to kill and destroy things in the game!
Got this letter as your spam/junk mail?
You can add newsletter@area00.com to your Safe Sender list so next time the newsletter will go to your inbox. To make sure you receive all messages from us, add the area00.com domain to your Safe Senders list or mailserver whitelist.

Getting the Main Wing Kill
When a wing is destroyed by a group of pilots, everyone will get 1 wing kill added to their record. But in order to "sign the log" of the pilots who failed to defend their wing, you have to destroy the last building.



By: Roadspill

A few tips to remember while bombing:
1) Know about how many other pilots are bombing
2) Make sure everyone is bombing in one last sector when going for the kill
3) Count the intervals between buildings being destroyed (this should correlate with the amount of others bombing with you, #1)
4) Timing when you fire takes practice

Good Luck, and dont get to mad when you dont get the main kill, you dont get anything out of it.

» Reply to this post...
Featured Player
Featured Player is planned to be a recurring item in the newsletter, we just wanted to let you know what it's all about and our plan for it. This will be for players to let us know abit about their selves and how they came to playing area00 and some of the memories they would like to share about the game. We will be interviewing a couple pilots for each issue for a shot to be in the player interviews.



Vapor
Name: Kelly
Location: California, USA
Playing Since: Late 2004

Tells us a bit about yourself?

I love eating out at restaurants, anyone who knows me, knows that I live in California and there is always something to do. I'm addicted to theme parks and I always have annual passes to at least ONE or more parks.

When did you start playing Area00 and how did it go?

I started playing Area00 at the end of 2004 and absolutely loved it! I completely sucked in the beginning until silversnake, reminkly, and spitfire taught me how to df. I still couldn't get the hang of it and I was so tired of getting shot down that I started a character in Newbie and all i did was DF until i reach about 850 kills. I realized that I was addicted to A00 and I never went out or did anything but play, so I deleted all my characters. I came back in 2008.

How did you experience your return to Area00?

My take in Area00 now is that it's very different from what it used to be. I remember at least two pages on Online players. Now it's barely half. I see that Area00 is trying to get back up by making a lot of changes.. which is good because it brings in new players.

What are your favorite aircraft?

My favorite plane used to be the typhoon. Now it's the F-22 Raptor and the F-15E Strike Eagle.

Any dogfighting tips for other players?

I don't give tips on df'ing because I want to shoot you all down! muhahah! :D


Do you want to be featured player in the next issue? » contact bloodhound00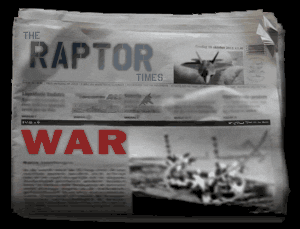 Stories from the Raptor Times newspaper:
WAR
Report of a short yet brutal war.
Barbarossa Battlefield - Tuesday Oct 18th 2011 at around 9:30 Central US time, Bloodhound and his gang of mercenaries took off out of Four Horsemen in their new freshly painted bombers to wage all out war in the Barbarossa area.
They flew into the nights skies undetected and wrecked havoc on the wings they painted red. No one survived this massacre. Since the opposing wings had such unreliable mercenaries (two abandoned their wings to join Four Horsemen) in them the only thing defending the wing was them silly little good for nothing computer planes but they did manage to scratch the paint on them nice new bombers. Four Horsemen broke through the enemy defences in no time and laid waste not to just one but three wings in under 2 hours!
Reports have it that some of the known associates in on this were non other then, Ace21, Bluehawk22, ck52, Mistikal, and Pl4y3r. All these players known heads for hire, they are ruthless mercs looking for nothing but that extra pay and that next wing kill to go on their record. . We asked Bloodhound why he did this what was his reasons? His response was simple, "Because Revenge is soo sweet!"


RAPTOR NEWS
F-22 onboard oxygen system: do not fear, McCoy says...
In light of recent U.S. Air Force grounding of its F-22 fleet due to trouble with the onboard oxygen system, McCoy's manager of information Muhammad (aka Barbarossa Bob) announces that pilots have nothing to fear when flying F-22 produced by the company. He said "everything is just fine" as McCoy has "improved the F-22 many times over". He went on to say that "The pollution in the air caused by Jafa's engines is to blame for the oxygen problems anyway." When some reporters disagreed, Barbarossa Bob responded: "I give information. I am a professional, doing my job! No, I am not scared and neither should you be!"
RAPTOR TOP TIP
Jafa has solution for Typhoon woes!
While the number one supplier McCoy maintains their Typhoon offers the best bang for the buck, an insider at Jafa's Parts revealed that the owner Jafa had been working overtime behind closed doors on reverse-engineering its canards using parts from the many ditched MiG-21s. When asked about this Mr. Jafa explained "McCoy is putting low quality parts on its aircraft to lower costs, customers always come to us for new parts." Analysts explained it is better to have 50-year old pieces of MiG-21 wings as canards than the painted cardboard McCoy puts on them. Maybe you should replace yours!
RAPTOR EXCLUSIVE
Bears are Back! Not!
"Bears are back!" one of those headlines often seen in the aviation press around the world when the mighty Tu-95 Bear resumed patrols. Cold War muscle flexing they called it. Of course The Raptor knows better and has the exclusive on the true nature of the flights. All these bombers were in fact on delivery to Area00. McCoy bought the entire Russian Tu-95MS fleet. Many mercenaries have already acquired them. As stocks are running low, McCoy is only selling them to supporters of the regime.
RAPTOR INVESTIGATION
Mystery:
China's J-10 fleet goes missing
Recently, our Chinese contacts reported the PLAAF is missing a few hundred Chengdu J-10s. The mystery on their disappearance remains unsolved. Unconfirmed reports claim the type has been seen flying in Area00 airspace. As the only media left in Area00, The Raptor has hired a private investigator. Dressed up as Wing Commander, he found McCoy is selling the type. McCoy gave him evidence that showed the company legally acquired them on the black market, our investigator then went on an unannounced holiday, which concludes our investigation.
RAPTOR FINANCIAL
World Debt Crisis : Aha!
Economic advisers ponder: Where did we spend all the money then? Some Area00 ex-pats told The Raptor that bankers all over the world remain clueless about the billions in inter-government loans that continue to get 'lost' at the Northern Sahara Bank. The Raptor's financial reporter went dumpster-diving at the Inchon-branch of the bank and discovered some interesting account overviews.

1 zenith 2000000000
2 superman 1999995065
3 sia0b0mb3r 1999066183
4 misty10 1996648128
5 virtua 1992206862
6 braindead 1975912273
7 kidbatz 1928086695
8 roadkill 1840559508
9 silversnake 1831832670
10 enforcer 1663398661

The Raptor will report these findings to the IMF and Interpol as clearly something is wrong. Obviously, we have got our contacts here and there to find the real persons behind these accounts. If you are one of them, your days as billionaire are numbered! Really, it's time to give the monies back! Our bank account number is 54775.
HELP WANTED
The Raptor is looking for Contributors!
Do you have what it takes to write news and stories for the Raptor Times? Do you also distrust all other media? Join our professional team of journalists by submitting your story!

Requirements:
You must have Combat experience,
or secretly have a job at McCoy or Jafa!
Freelance reporting welcome,
but only of the mercenary type!
Do not submit 700-page novels!
It must be newsworthy, and original!
You pay for bribes investigations!
Excellent offer:
Salary: 1,000,000 per published article

E-mail your attempt at some real journalism to editor@area00.com.