Foreword
We managed to get one of our cargo planes airworthy to dispatch the latest edition of the newsletter. Again we tried to send escorting fighters along, but nobody wanted to fly on New Year's Eve. Hopefully it's the same for the bogeys out there!
HAPPY NEW YEAR!
We wish you a great year of fun gaming at Area00!
Announcements
THANK YOU!

Following the announcement in the previous letter, the new Guardian program was launched on November 5. Many of you already became Guardian of Area00 or continued your Guardian support by signing up for the new program.

I would like to take this opportunity to thank you once more for your support. Things are looking up!

For those who wrote me in the past to be informed on the return of the program, but missed the announcement, you can find the details on: Guardian Program page

We understand that not all can or want to become Guardian. So this is also a big thank you to everyone who has donated or supported the game in other ways.
Development
In terms of development, you are probably wondering what the future will bring. However announcing new stuff before it is ready comes with a great deal of uncertainty.

For the coming year we will increase our development efforts, however much of the work will be done in the background and not affect the game at all. In fact even the website will not see immediate changes. This may frustrate some people, so we will keep sending these newsletters to keep you informed.

Any updates to the game in the mean time are set to be small and focus on improving what we've got as has been done so far. However, player activity is important in any game and your suggestions to increase it have been heard and pushed some items up on the long to-do list.

More on the above will follow in the coming year.

Version 1.32
Last November the game was updated for the relaunched guardian program. Additionally, there were some bug fixes and a rule change for the 'regular' servers: the minimum rank for wing creation was dropped and fee reduced. This lets you get started with your own wing right after you created your new character on these servers too.

For a detailed list of all changes, see here

Next Update: Version 1.33
Upcoming update is currently undergoing testing on Barbarossa server. It is a small update to address some of the gripes and it adds some more optional equipment for the bombers to tune up your bomber.


new Fighter Pilot Rating formula
Millionaire ranking fixed
F-4 Phantom fixed
and some minor bugs fixed
Bomber upgrades:
Radar and Laser guided bombs for the B-52H
Sniper targeting pod as new option on some US (fighter-) bombers
GPS-aided bombs for B-1B/A-10

As these changes are minor and mostly just optional for you to use, we won't address every tiny change here. For a detailed list of all changes, see here

Another change that will be introduced with this update is that the NEWBIE SCHOOL will be dropped at Inchon. It will stay at Newbie server for now. The aim is to get more new players into the real game right away and be able to get help from existing players without first having to figure out how to graduate. If needed, Newbie School can return later.

Upcoming
Following the update, Barbarossa will get some new or improved functionality to play around with. These may or may not be introduced in future updates. Details will follow in due course.
Tactical: GPS weapons
Whether you use a GPS smart bomb, GPS-aided air-to-surface missile or heavy cruise missile, you are relying on your wing's GPS satellite to do the most damage possible. Check to see if your wing's Finance Officer has acquired it if you don't want to waste these expensive weapons. If you are doing less damage, you might as well use the cheap general purpose bombs (Mk.8x or Russian FAB), for spread targets cluster munitions will do a better job (CBU or Russian RBK). If you've got a laser designator equipped, you may achieve better results with laser guided bombs (GBU-10 through GBU-28, and Russian "KAB") than your malfunctioning GPS-aided munitions.

Strategic: DO
If you are officer in charge of defending your wing, take a good look at not only your wings credits but also its hourly tax income (Wing Office > Financial News) when you are spending the tax payer's money on defensive units. If tax income is ample, you can get the best ground-based to backup defending fighters and defeat or surprise incoming bombers. But if tax income goes down as government buildings are getting hit and residences vanish, realize that your wing needs to recover using the wing credits before taxes start flowing again. Then smaller numbers or just some cheaper combination might be a great option to still chip away enough HP from the opponent, so your wingmen can take the enemy down.
Also consider the type of aircraft you are facing. Look it up to see which altitude you need to cover. If you are facing low-flying B-1Bs, building new Patriots won't help.

Political: Etiquette
Area00 is more than just a game with players, it has its own social network and politics. As a result there are soft rules invented by the players. In a forum topic called "Area's etiquette" by tudnut, these are put in a list of do and don'ts. Tudnut's etiquette list can also be a great list of advice for any player to understand the social aspects and politics in the game. But it's rightfully labeled as etiquette.

Do you follow these etiquette rules? Or would you say they don't apply in your area?



By: tudnut

Okay, I've finally compiled a list of rules that we try to abide by.

These aren't hard and fast rules built into the game; the beauty of the game is that it's flexible enough to have allowed us to make up our own rules as we went along. But they're the rules that most of us play with, and break them at the risk of being ostracized.

list not included, click link below

» Read the list here, and post your views...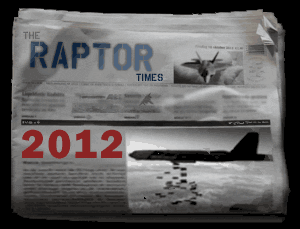 Stories from the Raptor Times newspaper:
2012
Happy New Year to everyone!
Happy New Year to all readers of The Raptor. On the last day of the year, it is a good day to get rid of your surplus bombs and other munitions. After all, it's time for fireworks! Your neighboring wings will not even notice with all the fireworks around that you dropped your entire inventory of Mk.82s on their roofs, or will they? How about the next morning, when they are all asleep tired from all the celebration? We at the Raptor will be setting the piles of undelivered newspapers on fire this evening!

Remember: don't drink too much! There's flying to do in the morning! Your CO will get mad if you and your hung over crew drop entire bomb loads on an ally! Nobody wants to start a new year having to freelance!


RAPTOR NEWS
Inchon Peace?
It is still early to tell but there appears to be peace at Inchon. Aside from some border skirmishes every now and then, the major wings seem to be pleased with the current peaceful situation. The regime will never accept this. Peace is never good for our country, it will enable the population to revolt against our Great Ruler. We may even need to turn to NATO soon and have them kick out these hippies. The ruler may need to get some real warfighters, we hear they're all at Karkand.
RAPTOR TOP TIP
F-22 Line Closing! Got one?
The final F-22 for the U.S. Air Force rolled off the Lockheed assembly lines a few weeks ago, which will close the production line. Our editor got in touch with McCoy to ask what this means for all the F-22s in action over Area00, McCoy responded: "Warfighters should never rely on the original equipment manufacturer, McCoy company will keep our F-22 lines open for as long as pilots keep crashing them." When asked about associated equipment produced elsewhere the company had no comments. Insiders believe McCoy still has enough subassemblies to at least keep six factories going, the factory at Coral Sea is believed to be closed. Our top tip to readers: make sure you get your F-22 at Coral Sea soon, while stocks last!
RAPTOR EXCLUSIVE
Sniper Pods!
Jafa managed to get hold of the state-of-the-art Sniper targeting pod. One of many goodies Jafa brought back from his holiday in the peaceful country of Afghanistan, Jafa immediately recognized a market opportunity. Jafa's workforce is now busy putting a copy into series production. The first batch is ready and shipped to its Barbarossa facility. The new Sniper pods outperform the Litening pod, and you can equip it to your B-1B using a new pylon which is provided for free!
RAPTOR INVESTIGATION
RQ-170 spy drone in Area00?
One our many Pentagon sources went off record earlier this week, indicating that the RQ-170 that was lost over Iran was in the process of receiving new coordinates of an 'classified warzone' when it crashed for unknown reason. Our investigator hacked into the source's account on a prominent social network and discovered a picture of the man next to Area00 pilot 'shiok'. Could we be seeing US RQ-170 spy drones over Area00 soon? Or is someone keeping it from getting here? To be continued.
RAPTOR FINANCIAL
Declare your Savings!
It turned out some of Area00 pilots with billions on their bank account were not declaring their savings! This fraud has been put right in the Barbarossa area. Tax inspectors elsewhere found they had also been mislead, and will soon address the problem. Pilots involved claimed it was because of a bug in the government income system. The system had reportedly failed many times before, which may explain that on occasion we see huge amounts of government buildings. Officials claim the system is functioning properly and the government has just been going through a real estate bubble!
HELP WANTED
The Raptor is looking for Contributors!
Do you have what it takes to write news and stories for the Raptor Times? Submit your story!

Requirements:
be able to type... that's all we ask for, type!

E-mail your scribbles to editor@area00.com.