ANNOUNCEMENT: NEW AIRCRAFT FOR AREA00 GUARDIANS



AREA00 VIP aircraft: Falcon 50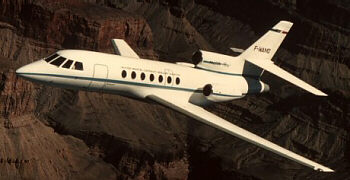 Area00 Development proudly presents the Falcon 50 Executive Jet to the Area00 Guardians. Area00 Guardians represent a large part of Area00's financial support. They are the VIPs of Area00, and because of this they will also be able to fly like VIPs!

The Falcon 50 is a small executive jet designed and build by Dassault Aviation, France. It was first introduced in 1976. The long-range variant, the Falcon 50EX, first flew in 1996 and entered service in 1997.

Falcon 50/50EX aircraft are in government and VIP service in Burundi, Djibouti, France, Iraq, Italy, Jordan, Libya, Morocco, Portugal, Rwanda, South Africa, Spain and Sudan. And now also in Area00 service.


The cabin can seat nine passengers. The forward section of the cabin is a lounge area with four armchairs and tables. The rear section of the cabin is fitted with two armchairs, a table and a convertible three-seat sofa/single bed.

Area00 Guardians only will be able to buy and fly this aircraft. While they are flying in the Falcon 50 VIP jet, they cannot be shot down!

Please note:
- This aircraft is for fun! It does not have any combat role.
- It will be added in the upcoming update!

If you have any questions or comments, feel free to e-mail us at development@area00.com


Area00 Guardians enjoy the ride!

Niels Hillebrand & Tony Choe
Area00 Development


For information on how to become a Guardian of Area00, click here.