INCHON WEEKEND WARRIORS SPECIAL - Sept. 28-30!

Attention Weekend Warriors! We want to have everyone on! There we have a special treat for you if you play Inchon during the September 28-30 weekend. Starting on Friday, everyone that shows up and plays the game at Inchon on at least two days will get a free ticket.

Area00 Players: 1 week aircraft ticket
Area00 Donors: 1 month aircraft ticket
Area00 Guardian: 1 month guardian ticket


If you have a ticket already, it will be extended by 1 month. Tickets will be issued the week after.

You must really play! A few sorties or couple of bombs dropped is not enough to qualify! PLAY! It doesn't have to be the entire day, but we want to have as many players PLAYING as possible on Inchon to have the most active weekend in ages!

Spread the word!

Not on Inchon?
This will be a good time to start on Texas server
Area00 Social Media Pages
As many of you already know, Area00 is posting on daily basis interesting stuff on Facebook & Twitter.
Since a few months also all the wing kills are posted on our Facebook & Twitter page which gives you the opportunity to respond and like the kill you and your friends just made.
This integration between social media and Area00 gives you as a player a better connection to the game while showing off your achievements to all your friends.

We are noticing that this new feature is liked by players a lot. The statistics on our Facebook page are growing and we hope that this progress will continue like this.
Besides wing kills, we are also posting daily military and aviation news on our Facebook. If you want to be amazed, like our Facebook page and enjoy your daily feed of Area00, game news, aviation news and pictures. This will assure you of staying up-to-date with the world of Area00 and everything around it.

Facebook: https://www.facebook.com/Area00Gaming
Twitter: @Area00Gaming
Development
Since the last newsletter, Area00 received some small updates. If you missed them, here is a summary:

Version 1.33
January saw the roll-out of v1.33 as was described in the last newsletter. A complaint often heard was that past updates focused more on the fighters. That is why this time some bombers were updated.

Version 1.34
Another small update followed in June. Now you no longer have to refresh the Wing Radar when you are watching it. For Guardian ticket holders, the option for a once-per-year callsign change was added. Some other small changes were made, such as the Ally color. The wingkills are posted to Facebook and Twitter. You can now comment on wingkills outside of your wing. It can be improved if enough players use/like this feature. Like the page and post a comment!

This was a small update, followed by some bug fixes (thanks to blasphemy, airstrike, november for reporting these), for details: http://www.area00.com/update/dev_v134.html

Next Update: Version 1.35
The next update will again be bigger and introduce new features, changes, and also new gameplay options. It will all be explained in the next newsletter.

... but there's a different kind of update coming too:

Coming: Korea and Texas merger

NOW: We have two sites: Korea.Area00.com & Texas.Area00.com
You can have two accounts: Your Korea Account & Your Texas Account.
Korea has four gameservers, Texas has three gameservers. You might have up to seven characters in total.

SOON: We will have one site for all.
You will have one account: Your Area00 Account
Area00 will still have the seven gameservers for now. You will still to be able to have up to seven characters. Your existing characters will be there!

In the past we've had many rumors about merging of gameservers, and players were concerned about their characters, or their favorite gameserver. This is NOT that kind of merger. This merger only concerns the two sites, the two account servers, and thus will convert your two accounts into one to play all your existing characters.

WHEN: When it's ready, there will be a little downtime, after which you will be notified.

You do not need to take any action right now. Keep your accounts, keep your characters. Continue playing at Texas or Korea or both!
More on Wing Kills
There are a few tactics to increase the chance of getting a wing kill. As explained in Vol.3 Issue 1, timing and situational awareness is important. Here is some additional advice.
You may have been tactical about your planes and weapons. But for the kill, make sure you are using the correct bomber to finish the job. It's better to use a large bomber (like the B-52) and equip it with the best armament (like AGM-86D x20). Using a multi-role fighter will decrease the chance for sure as you will be the first target for fighters.

As explained already, observe the situation. Not only in the air, but also strategically. If the enemy online, check their posts. If the CO / VCO / DO is online you can basically forget it. In this case observe the online times and wait for a better moment.

Getting your friends to join bombing will definitely increase the chance. Be aware that this needs proper preparation to make sure everyone is online at the same time. The use of the forum, messages, or third party chat services is crucial.

When everything is arranged and everyone is good to go. Make a last check of the online list and don't forget about potential allies of the wing you're bombing. Online allies of your enemy can slow down your operation easily. When bombing: Most wings are leaving pilots in the center section or forget to re-arrange them when people come and go.

Keeping the wing alive on your own
Tips for defending a wing when you're not in an officer position. (single sector defense)
There is probably a handful of times where you have logged into area00, and found your wing is almost dead. Well, how many of them times have you been the only one in your wing on and not in an officer position to rebuild the entire wing? It's not so much fun when your being hammered by your enemy with one sector left, but you are the only hope for your wing's survival until a officer or more wingmen show up to aid you. Well, there is a few things you can do to help keep your wing alive.

Best thing to do is keep them busy by defending and keep the structures up. Building 100x residence while you got more than 3 people bombing you in a single sector isn't the best idea, ideally you would want to rebuild the sector fully. It will help slow them down a bit, instead of them going through 70-100 single building targets in under a minute, 10-25 of each structure depending on the server is what I recommend. Even though you cannot build defense systems, by rebuilding the entire wing you can get the computer planes back in action. They don't do a whole lot but they will aid in the defense of the wing somewhat and they are ANNOYING to most bombers! A flight of Su-27 can do more than 50 damage, which may also break some equipment, giving you the edge.

Good thing about single sector defense is they really don't have anywhere to jump to get more kills. Your sector is the last, so get in your fighter to send a few missiles into their planes. This can increase chances of shooting a bomber down. Most people are pretty set on getting stats up so they want to finish their sorties and drop the entire payload of their bombers. Then you have your good 'ol Allies you can call upon if your wing has any that is. Most allies will lend a helping hand if asked, your ally may even be willing to counterattack. Then you can focus on keeping your sector up. Mainly single sector defense is a big waiting game, but just rebuilding will not keep the bombers away. If you can keep the wing alive until an officer gets on, then you can strike back more effectively.

Can I bomb? Do not bomb? Stop bombing?
We've all heard it many times. Your CO is ordering you to stop doing what you want to do. Peace! It's for the wing's sake, it's politics, it's personal, it's "real life" reasons. But you think it's time for action, this is Area00, you need to rank, you want better ratings, you want to earn more credits... no, you do not want handouts, you want that enemy wing kill and earn your wages! Gather up some like-minded wingmen, leave that wing behind and start your own wing. Now you call the shots! Kill that enemy, or be killed, this is Area00. Yes, this takes determination and coordination with others, just do it!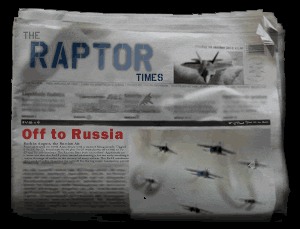 Stories from the Raptor Times newspaper:
Off to Russia
August break for Russian Air Force Anniversary
Back in August, the Russian Air Force celebrated its 100th Anniversary with a massive flying parade. Upgraded Su-24, Su-25, MiGs, brand new Su-34 plus Su-35 were shown off as well as Tu-95 and Tu-160 bombers. The Russian Bear back on its feet!?
Apparently not, turns out that the RuAF pilots started celebrating a bit too early resulting in a major shortage of vodka in the vicinity of every airbase. The RuAF mechanics claimed they needed vodka to service the aircraft for the big event. Leadership provided them with rubbing alcohol instead, but somehow all mechanics ended up in hospital that night. With no airworthy aircraft and too many drunk pilots, the RuAF leadership had only one solution: recruit pilots from Area00 and have them bring their copycat planes. The mercenaries flying US types were left behind wondering why it was so quiet in the Area00 skies.


RAPTOR NEWS
iPads enter the Cockpit
The FAA approved the use of iPads by pilots of commercial airlines. The approval came after the FAA made a visit to Area00, because our pilots have been flying with iPads for years. It's much cheaper than upgrading to multi-functional displays.
Although a lot of crashes have occurred since the introduction, an investigation revealed it was not the device but the fact that Area00 pilots play a lot of games on it instead of focusing on the Area00 skies. Especially flying games regularly result in confusing fiction with reality. The FAA dismissed this risk on the basis that even rookie airline pilots are much better trained in using up-to-date tech than the pilots in Area00. The FAA may have a point as some of us are still using IE6 apparently. Seriously?
RAPTOR ECONOMY
Aircraft Sales Down, McCoy's Cars?
For the fifth year in a row, aircraft sales are down it was revealed at the McCoy's Planes shareholders meeting. The CEO of the company comforted investors that the company has yet to be announced plans to add another new revenue stream. Although display ads on every cockpit screen helped to keep the company afloat, new plans are needed to grow the company.
Meanwhile on the Area00 Facebook page someone posted a "Best of both worlds" ad showing a fighterjet and car. When our reporter asked the company if it was their ad, McCoy responded with "No comment". Could McCoy be planning to sell luxury cars to the many rich freelancers in Area00? At least cars don't require a runway...
RAPTOR TOP TIP
Best Advice EVER to all Area00 Pilots!
The Raptor redaction worked incredible hard to create the best possible tip for this issue. Our redaction received a lot of sophisticated information from our spies at the Pentagon, we sent twenty interns to the best Air Academies in the world. We ran thousands of combat simulations of tactical and strategic scenarios using the latest and greatest hardware from Jafa: the brand new youPhoney-5 and the Galaxy-Not-Again. After 4000 hours analyzing the results, we have our top tip for YOU!
Make sure you don't get shot. It's always your own mistake!

You will be a much better pilot now that you know this!
RAPTOR EXCLUSIVE
World Leaders, sell us a wing or two?
Our Great Ruler tasked a special envoy to go around the world and search for better wings. "Disappointing" is what His Highness called the wings in Area00 responsible for the vital task of ongoing conflict in our country. The envoy will issue a special proposal to each foreign government: under a veil of austerity cuts existing wings or squadrons of air forces around the world can be completely transferred to Area00, including personnel.
With Area00 mercenaries' pensions and unemployment checks currently costing some 50% of the national budget, a sizeable offer could be made to any government after social reform. Our Great Ruler is upset: "People calling for change, that's no good, we need more war! Area00 will never become a democracy. If that means hiring foreigners, so be it."
RAPTOR INVESTIGATION
Follow-up:
RQ-170 spy drone in Area00?
Last issue we revealed how the lost RQ-170 was probably programmed to head to Area00 when it mysteriously crashed. Unfortunately 'shiok' has not responded to our publication, so that was a dead end.
We are now trying to hunt down a pilot that used the callsign 'deadend' after our publication, "That is no coincidence!", the Raptor investigator is sure. It remains to be seen if he has anything to do with the RQ-170, our records indicate 'deadend' had only little experience before he disappeared from Area00 again. "But that's to be expected when he normally only flies drones remotely" our investor commented.
We think 'deadend' has redeployed to parts of the world where drones are more common, maybe he will return to Area00 when he's done with the drones and fly some real planes. To be continued...
RAPTOR FINANCIAL
Black, Blood, and Blue... Money!
After the fraud with the savings, Area00 pilots are still not being honest with their finances. Northern Sahara Bank reported that a massive number of illegal wire transfers took place. The CFO of the bank explained: "We're seeing daily illegal transfers of Blue Money to mercenary accounts". Blue Money are the funds our great ruler made available to the mercenary wings to finance infrastructure building projects, the ruler insisted Blue Money only to be made available to struggling mercenaries in emergency cases. "Northern Sahara Bank is committed to take good care of our customers' blood money and black money, but now we see those accounts overflowing with Blue Money."
Unacceptable! The Raptor will report this to the Area00 Ruler and propose the money to be set on fire. Northern Sahara Bank supports our proposal: "Yes, just let us take care of it, globally competition is fierce nowadays, but we're still the best in the business for making money disappear."
HELP WANTED
The Raptor is looking for Contributors!
Do you have what it takes to write news and stories for the Raptor Times? Submit your story!

Requirements:
be able to type... that's all we ask for, just type something, anything!

E-mail your scribbles to editor@area00.com.